OK, I've read three books recently.
See Me
by Natasha Moore,
Snowbound
by MG Braden, and
Christmas With Her Boss
by Marion Lennox! All three books were good.
http://www.mybookstoreandmore.com/see-me-p-6163.html?osCsid=1c4681d8b178181863a414ed819b69d3
See Me by Natasha Moore
was a quick, fun read. Feeling invisible among co-workers, friends is a hard reality to face. Lydia can't wait to get home and into her closet to let her inner sexy, hot woman free! Free to wear colors, sexy clothes and to dance .. dance with the windows open for anyone to see ... but what if no one ever looks? This was interesting and fun to read .. it was quick and fascinating and enjoyable.
These days, Lydia is feeling increasingly restless, and tired of being invisible. No one at work notices the nose-to-the-grindstone colleague dressed in business drab. Her neighbors don't even know her name.

No one knows she burns off her frustration by dancing to her favorite music, alone in her apartment. No one knows her closet is a wardrobe divided: monochrome and flats by day, silk and stilettos by night. No one knows her secret ritual has slowly evolved into private stripping…then dancing naked on her tiny balcony, daring someone—anyone—to notice.

Then, at the apartment across the way, the curtains move.
Wes can't believe what he's been missing by working the night shift. He is drawn to the amazing woman whose every sensual move makes his body ache. And when she catches him watching, the evening explodes into an erotic fantasy. Afterward, though, she confesses she's not all she seems. No way is this fiery siren as boring and unlovable as she claims.

And no way is he going to let her go without convincing her she is brave, beautiful…and the face he wants to see every morning.
Snowbound by MG Braden
was a lovely romance story. I honestly hated seeing this one end. This was a very enjoyable, read.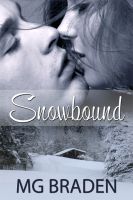 http://www.smashwords.com/books/view/33007
A trip for two turns solo when Cassidy Jensen is abandoned at a ski resort by her emotionally abusive boyfriend. Daniel Robertson visits Snow Peaks, after some time away and too many memories. He's not looking for love, only escape. After Cassidy knocks him over, Daniel can't resist the need to show her how a real man treats a lady. Being snowbound is only bad with the wrong person

Christmas With Her Boss by Marion Lennox
This was a very enjoyable read. Excellent story and wonderful characters.
http://www.amazon.com/Christmas-with-her-Boss-ebook/dp/B0041KLELY
Meg Jardine, personal assistant extraordinaire, is convinced she's about to lose her job. Her gorgeous, dark and deeply unimpressed boss, William McMaster, is stranded in Melbourne over Christmas—and it's all her fault! With her heart in her mouth, she invites the intimidating billionaire home for the holiday….
At Meg's chaotic, cozy family farm, William's cold reserve begins to melt away. Suddenly they're seeing each other in a whole new light, and country girl Meg has shot straight to the top of William's Christmas list!